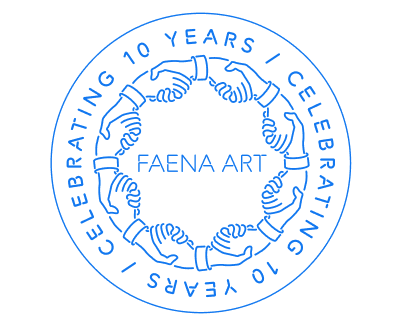 Mission
Faena Art is a 501(c)3 nonprofit organization that commissions, produces, and houses cross-disciplinary artistic experiences. A catalyst for innovative, site-specific, and immersive practices, Faena Art bridges the popular and the experimental making art accessible to all. Faena Art fosters new models for social interaction transcending the traditional boundaries of art, science, philosophy, and social practice.
FAENA ART BOARD
German de Elizalde / President
Neisen Kasdin / Treasurer
Lauren Cramer / Secretary 
FAENA ART STAFF
Nicole Comotti, Executive Director
Nicole Pozos, Director of Exhibitions
José Soto, Controller
CREATIVE TEAM
Gastón Guaglianone, Editorial Director
Alejandra Román, Designer
OUR LOCATIONS
Given their spatial features, unique in Argentina and in Miami Beach for their size and style, Faena Art Center and Faena Forum call on local and international artists, designers and film-makers to plan site-specific works that interact not only with their monumental architecture, but with the cultural and urban conditions that make up their immediate context.
Faena Art thanks Château La Gordonne, East Imperial, Lavazza, Martini & Rossi, Perrier, Red Bull for their generous support. 
For press inquiries please contact [email protected].