Exhibition
The Smell of Pink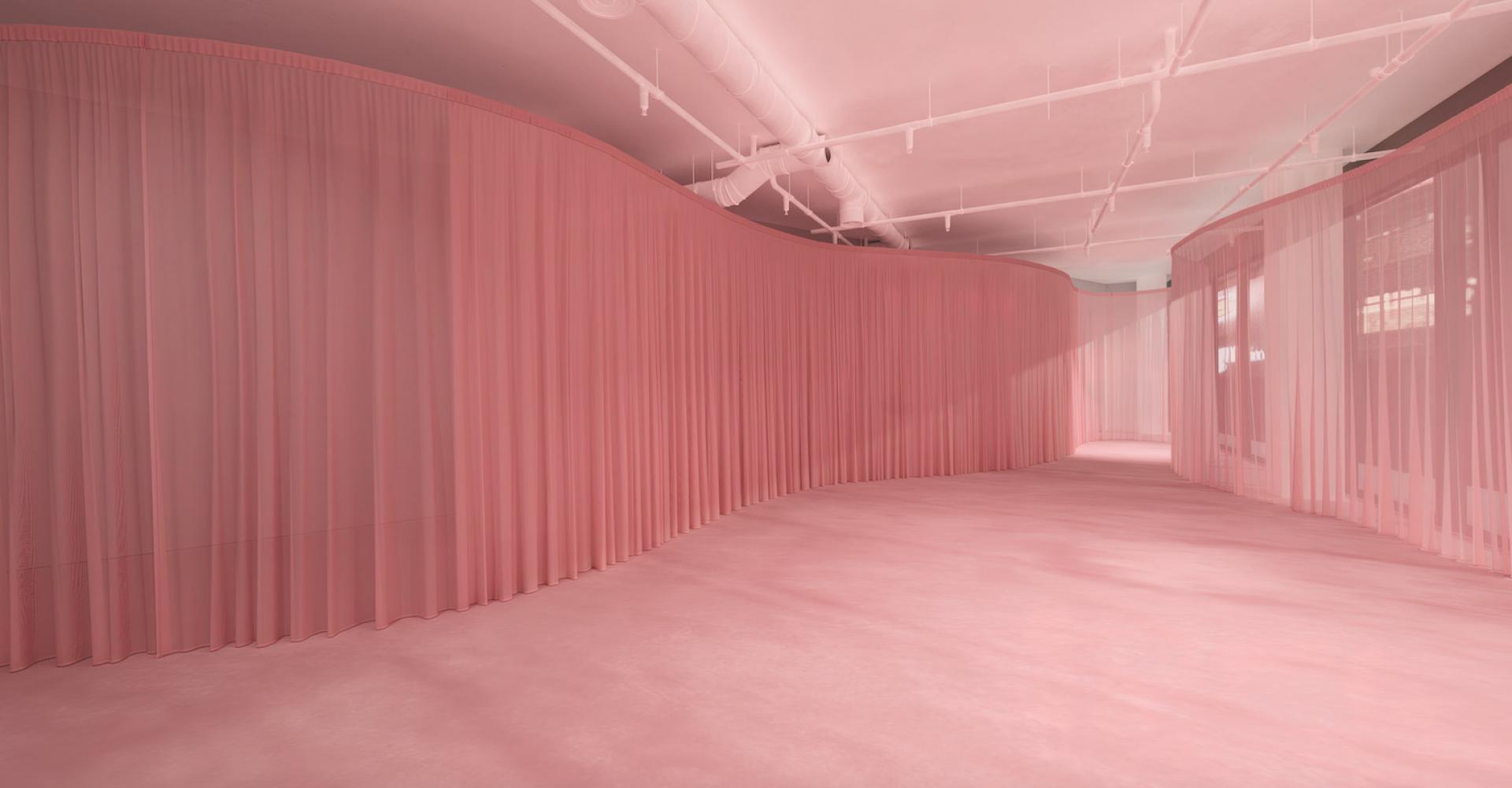 In Reisigner's celestial realm, the visitor is surrounded by rose-coloured translucent curtains, and carpets of the same hue. 
The Project Room inaugural program features Barcelona-based artist Andrés Reisinger's The Smell of Pink, an immersive multi-sensory site-specific installation. Commissioned and produced by Aorist, this installation is part of Aorist's multi-location launch exhibition titled Crossroads, featuring artists whose works act as catalysts and way finders along the roads that connect the digital realm and our everyday landscapes. This work invites audiences into a dream-like experience akin to stepping inside a rose quartz, surrounded by scents inspired by music and nature. Renowned for his merging of digital and physical worlds, Reisinger creates a scent bearing the installation's title, and the bottle, coupled with the NFT, that will be available as a complete work for auction on Aorist. 
‍
At night, similarly tinted LED lamps, replace the filtered daylight, to keep the otherworldly refuge illuminated. Isolated from the outside world, this comforting, encapsulating, organic and sensuous embodiment of the artist's unique mental and virtual landscapes, invites the audience to remain in the moment, encouraging a meditative state of deep connection with their own spiritual and sensory experiences. 
‍
ABOUT AORIST As Faena Art's Primary Digital Partner, Aorist releases a series of NFTs as the digital counterpart of various artist commissions to be auctioned on Aorist platform. Aorist is a next-generation cultural institution offering a climate-forward NFT marketplace for artists creating at the edge of art and technology. With a cross-disciplinary program of exhibitions, commissions, partnerships, and an incubator, Aorist bridges the digital and physical domains while supporting experimentation, co- creation, and innovation. www.aorist.art
‍
ANDRÉS REISINGER
Andrés Reisinger (b. 1990, Argentina) is one of the most sought-after digital artists of the 21C. Originally from Argentina, he now creates carefully curated projects in his studio in Barcelona. His instantly-recognizable dream-like imagery have drawn interest from a plethora of multi-million-dollar collectors, brands and international art galleries alike. He is named as one of "Forbes 30 Under 30" artists creating and designing the future of the arts and is the winner of the "Young Guns" Art Directors Club New York City. His market has grown from strength to strength, with recent works fetching up to half a million dollars auction (The Shipping, $450,000, Nifty Gateway, 22 February 2021).
‍
‍