Experimental Communities
ángeles veloces arcanos fugaces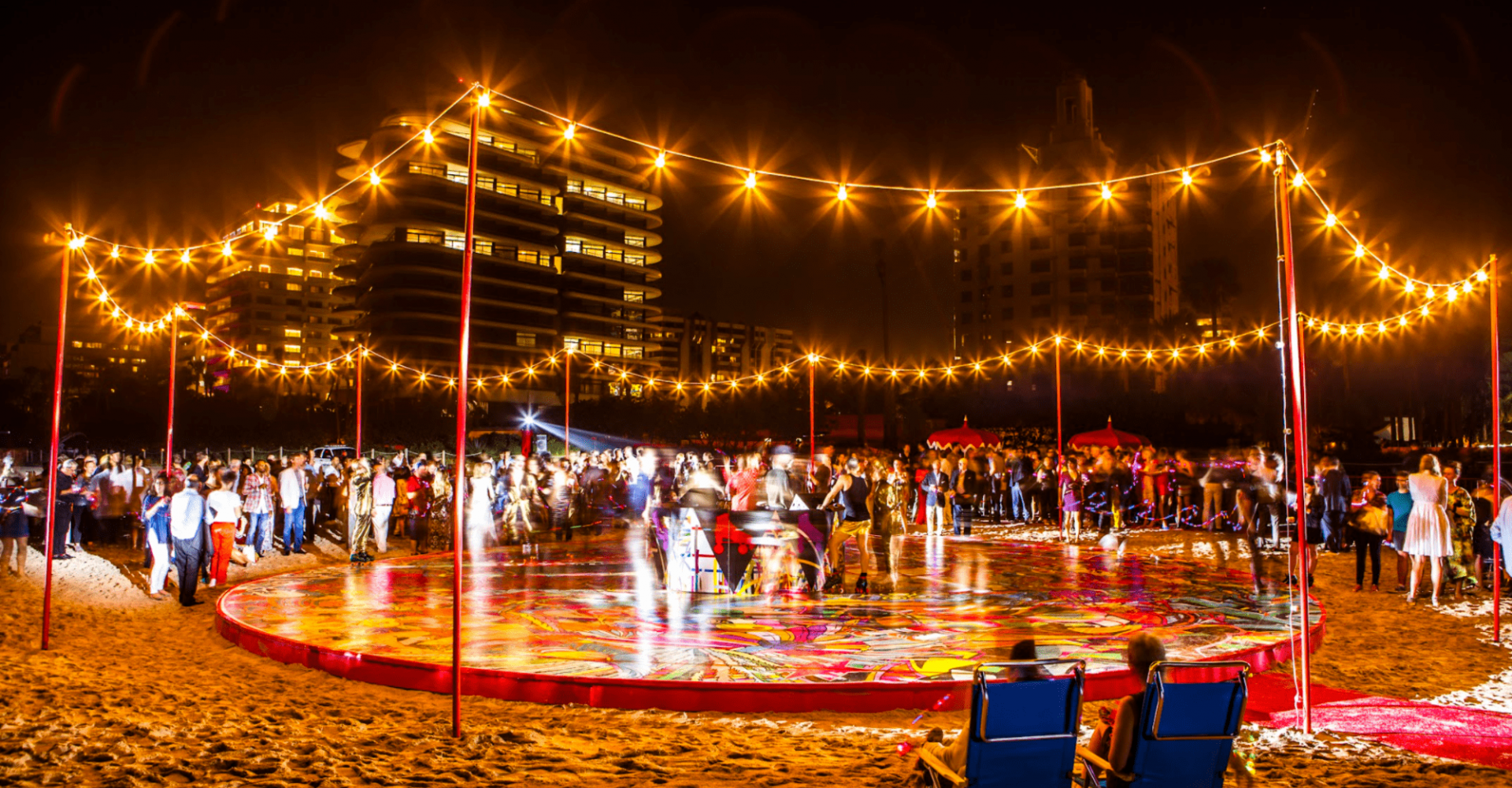 Sunday, January 14, 12PM – 10PM
Free and open to the public
Limited number of roller skates available.
We encourage you to bring your own!
*Express Line
If you would like to speed up your check in process at the door, please print out the insurance liability waiver (below) and bring it with you this Sunday! One waiver per person and minor in your party.
Insurance Liability Waiver
Faena Forum
3300 Collins Avenue
Miami Beach, FL 33140
"I'm so happy! Sunday was indeed a super special day. It was very much like the very first incarnation of this roller skate rink project in central park in a way and the crowd was really what made it unique (and central park like): all these people of different races, different social backgrounds, different ages, different sexual orientations, roller skating together. I was very moved.
It sort of hit me that day that a project like this is absolutely fundamental to be happening at this moment in these very polarized times we live in: a project/a place in which people are brought TOGETHER to enjoy themselves and at the same time have a glimpse (at least) of personal freedom."
– Eli Sudbrack (avaf)
ángeles veloces arcanos fugaces is a participatory art installation that reimagines a roller dancing rink as an art experience by assume vivid astro focus (avaf).
Musical experience curated by Paperwater. Performances by the TM Sisters and the Miami Quad Squad.
The immersive, participatory and site-specific installation created by avaf, ángeles veloces arcanos fugaces, includes a line-up of DJs and performers who will activate the roller rink with their own practice while the public is invited to dance and skate within the installation.
The third edition of the program will take place on Sunday, January 14th from 12:00pm to 10:00pm at the Faena Forum—the OMA designed cultural centerpiece of the Faena District Miami Beach.
This participatory work establishes a new platform for social interaction in the Faena Forum. The roller disco will feature a performance by renowned Miami performance artist duo TM Sisters and will be activated musically by guest DJ Paperwater. Roller skates will be provided to attendees.
Faena Art, the international non-profit organization dedicated to the presentation of cultural programming that transcends disciplines and encourages collaborations across geographical and philosophical borders, originally commissioned avaf to create a neo-disco roller rink in 2014 for the Faena Art Center Buenos Aires. This rink was reimagined in 2015 for the Faena Beach in Miami Beach and is now reconceived by avaf to take over the entirety of Faena Forum.
"Art institutions in the 21st century should be catalysts—to act as bridges between the local and the global," Ximena Caminos, Artistic Director and Chair, Faena Art. "When we first worked with avaf in Buenos Aires we were struck by the way this format encouraged openness and welcomed new audiences to the Faena Art Center and encouraged them to experiment and experience both culture and community. avaf's project has since become a cornerstone of what we like to call our 'artistic collaboratories' or 'experimental communities' program. We have asked them to reimagine the roller skating rink for the interior of the Faena Forum as a means of creating connectivity and interaction between individuals, art practices and our cultural mission: to celebrate community, to open our doors to participate, play, to dance, and to break down the barriers in our society."
Alan Faena added; "The Forum is envisioned as a space for a multiplicity of voices and is the heart of the Faena District Miami Beach. I am proud to offer Miami a new environment for cultural experiences that encourages experimentation and creation, allows the diverse communities of Miami to come together, and that at the same time speaks to cultural currents throughout the world."
assume vivid astro focus first explored the concept of the roller rink as an interactive installation with Public Art Fund in Central Park, New York City in 2004 as part of the Whitney Biennial. That original iteration of the project was intended as an homage to the Skate Circle, a community of roller dancers in Central Park that have been a part of New York City's identity for years and part of the fabric of its cultural life. Now, for Faena Art in Miami Beach, avaf moves this public project indoors to create a participatory space for celebration that exists somewhere between multiple genres including music, dance, art and video and repurpose the art viewing space as an arena for physical activity and community gathering. Likening their work to music, avaf has said, "it's the medium that's most suitable for reaching the viewer and transmitting ideas. The way it does so is very corporeal and entices an immediate and shareable reaction."
Featuring all-day food pop ups by Plant Twist, Wynwood Parlor and Vodka Pops!
Experience the roller dancing rink in 360° here

ABOUT ASSUME VIVID ASTRO FOCUS
assume vivid astro focus is comprised of Eli Sudbrack and Christophe Hamaide-Pierson. Eli Sudbrack was born in Rio de Janeiro, Brazil and lives and works between São Paulo and New York. Christophe Hamaide-Pierson was born in Paris and lives and works in Paris. Their work is part of major international collections such as the Museum of Modern Art, New York; Museum of Modern Art, São Paulo; De La Cruz Collection; and The Depart Foundation. avaf is currently showing avalanches volcanoes asteroids floods, a solo show at Fredric Snitzer Gallery in Miami until June 19th.
ABOUT TM SISTERS
TM Sisters is a Miami-based artist performance duo formed by sisters Tasha Lopez de Victoria and Monica Lopez de Victoria. Monica graduated from Florida International University with a BA in Photography and Video and Tasha graduated from New World School of the Arts with a BFA in Electronic Intermedia. Their work has been included in the traveling exhibition Uncertain States of America: American Art in the 3rd Millennium curated by Hans Ulrich Obrist, Daniel Birnbaum, and Gunnar B. Kvaran and the Second Moscow Biennale of Contemporary Art.
ABOUT PAPERWATER
Paperwater is a live/production duo comprised of Daygee Kwia and Eddy Samy. Originally formed as a DJ act, the group took form as a multifaceted and multi genre oriented production house, leading a team of talented creatives under their wing.
ABOUT MIAMI QUAD SQUAD
Miami Quad Squad is a roller skating entertainment crew that combines the art of motion and dance on wheels.