Exhibition
Franchise Freedom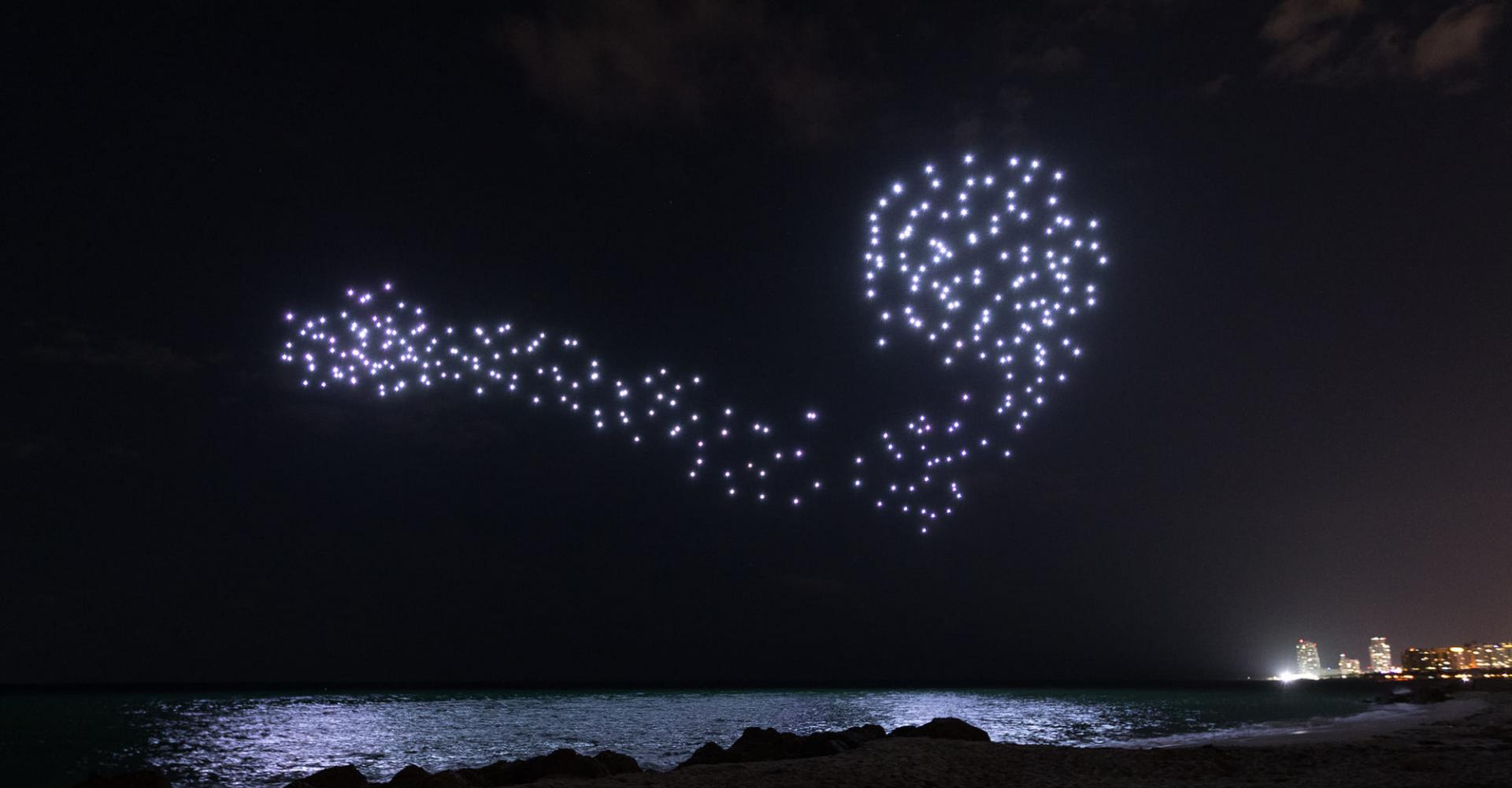 An autonomous flying swarm of 300 drones, Franchise Freedom, supported by Faena Art, in partnership with BMW and Pace Gallery, exposes the tension between individual freedom and safety by numbers.
The sacrifice made by the individual subjecting to the group gives the illusion of freedom, creating a never-ending cycle. Inspired by the starlings that take over the skies of Rome towards the end of autumn, Franchise Freedom mimics the birds' behavior, roosting together in massive flocks and flying through the sky in large swarms to create breathtaking aerial displays through a seemingly rehearsed but natural cohesion of movement and light.
This performative piece marks the first time that a natural phenomenon will be imitated by machines working with decentralized algorithms at this scale.
Certain types of flowers close at night for self-defense and to conserve their resources. This highly-evolved natural mechanism is called 'nyctinasty' and inspired Studio Drift to create Shylight for Faena Beach Dome; nine sculptures that unfold and retreat in fascinating choreography, mirroring that of real flowers.
About the Artists
Studio Drift was founded in 2006 by Ralph Nauta (b. 1978, Swindon, United Kingdom) and Lonneke Gordijn (b. 1980, Alkmaar, Netherlands). It explores the relationship between nature, technology and mankind in site-specific installations and interactive sculptures. At first glance their work seems to refer to familiar situations but on further investigation these references are brought into question. The viewer is manipulated into reshaping their relationship towards their environment and personal connections, stimulating open minded futuristic prospects where contradictions merge. While their visual language is characterized by dreamy and poetic aesthetics, the concept behind the work is often based on an unexpectedly critical engagement. Drift's work has been exhibited worldwide at leading museums, fairs and institutes such as the Victoria & Albert Museum (UK), World Expo Shanghai (CN), Museum Boijmans van Beuningen, Rotterdam (NL), M.A.D. New York (US), The Israel Museum (IL), Abu Dhabi Art Fair (UAE) and La Biennale di Venezia (IT), Biennale de São Paolo (Brazil) and the Rijksmuseum, Amsterdam (NL).