Exhibition
Melodies of Certain Damage (Opus 2)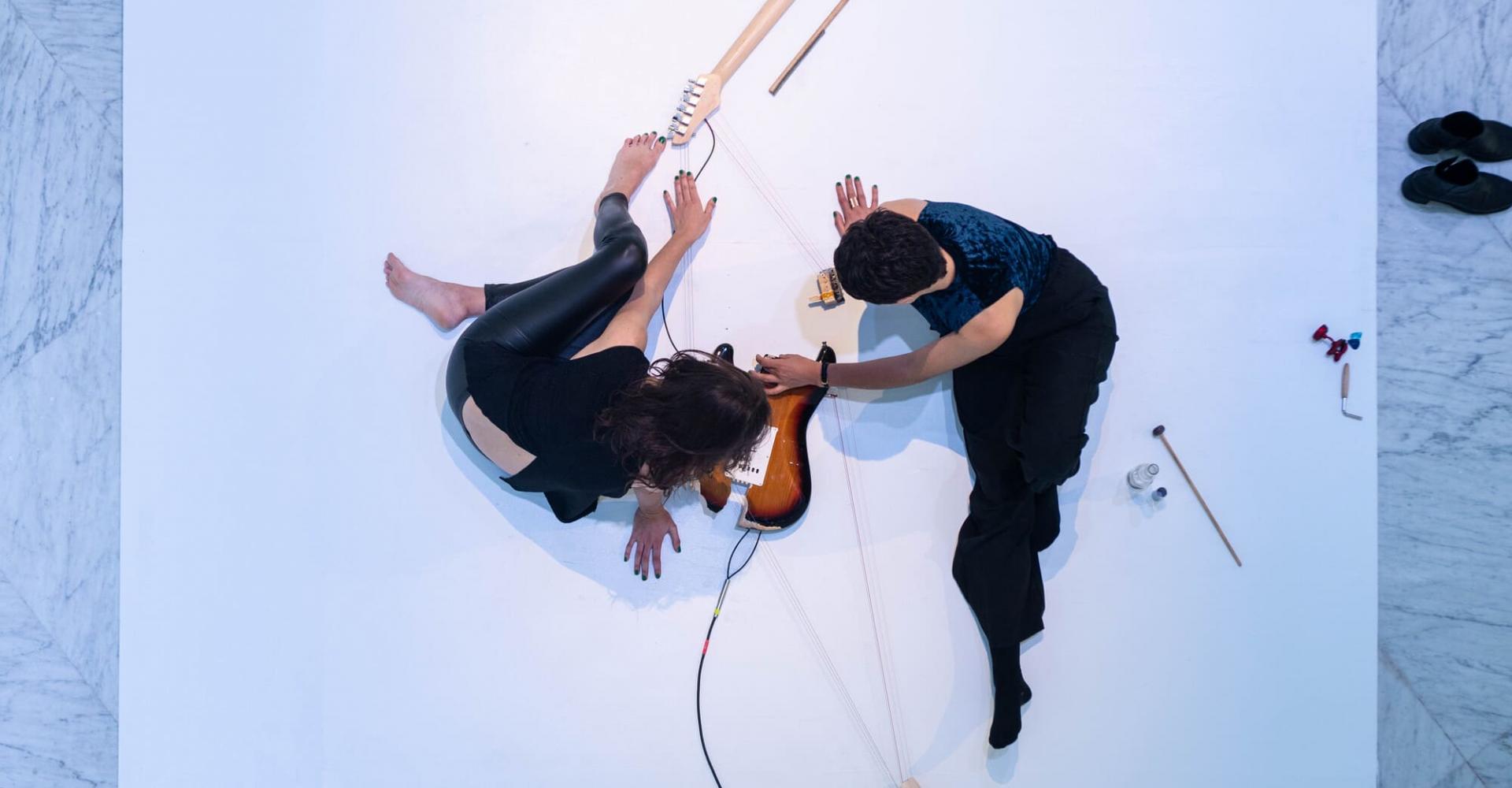 Faena Art Center Buenos Aires
Aimeé Painé 1169
Faena Buenos Aires, Argentina
Faena Art is pleased to announce Melodies of Certain Damage (Opus 2), an immersive sculptural and site-sensitive sonic installation and performance conceived by artist Naama Tsabar.
Tsabar creates experiential, sculptural, sonic installations that explore questions of power, eroticism, gender and memory. Her sensually driven installations, performances, and sculptures address the implicit gender roles and coded behavior of music and nightlife. Tsabar appropriates and subverts the aggressive gestures of rock and roll and their associations with virility and power.
"We are honored to invite Naama Tsabar to Buenos Aires and commission her latest body of work and new site-specific performance which breaks with traditional divides between popular music and contemporary art. Her sonic environment proposes a new exhibition and concert format that disrupts our experience of the Faena Art Center and exemplifies our commitment to supporting artists as they work across disciplines", said Alan Faena.
For the Faena Art Center Buenos Aires Tsabar will create a site-specific environment, curated by Zoe Lukov, that tunes the entire Sala Molinos. "Naama repurposes the remnants of an act of male bravado, and ultimately of a kind of violence. The death of the object becomes the starting point of the new project. The works are maps for the memory of the damage and ultimately a proposition for a new instrument and a suggestion for moving towards new creation."
The work will be activated by a number of women and gender nonconforming musicians and performers and will respond to the particular musical context of Buenos Aires by placing international and local musicians in conversation.
Naama Tsabar commented, "Melodies of Certain Damage (Opus 2) at the Faena Art Center in Buenos Aires will be my first exhibition is Argentina, as well as my first big scale installation of this new project. As part of the project I will be collaborating with local female and non-binary musicians in composing a new unique performance for this specific sculptural installation in the Faena. It is especially exciting for me to collaborate with the local creative scene, together we will write the works into a new gendered history."
Tsabar's work underlines the way in which a venue for performance may function as a structure of power. In this case, her refusal to engage with the monumentality of the Sala Molinos is a transgressive act that encourages sensuality and intimacy with the installation and with the performance. Appropriating the iconic and overtly macho trope of smashing the guitar, Naama repurposes the remnants of an act of violence, reimagining the broken pieces as objects of visual and functional significance, highlighting the pieces by inserting them back into a working order, making them instruments in their own right. The once iconic object now turns into a field of scattered pieces, transforming the held instrument into a new territory for the performer to insert themselves. This sculptural installation and performance is a seductive and subversive work that encourages a new mode for public engagement with sculpture and sound.
Melodies of Certain Damage (Opus 2) will be composed during a one-week residency in Buenos Aires with two of Tsabar's long time collaborators, Rose Blanshei and Sarah Strauss, and six Buenos Aires-based musicians, Gabriela Areal, Florencia Curci, Violeta García, Luciana Rizzo, Natalia Spiner, and Carola Zelaschi. The installation is activated by the performers at certain moments throughout the length of the exhibition but is also interactive and can be touched and played by members of the public. The exhibition will open to the public the weekend of Art Basel Cities: Buenos Aires in September.
About Naama Tsabar
Naama Tsabar (b. 1982, Israel) received her MFA from Columbia University in 2010. Selected solo exhibitions and performances of Tsabar include: The Center for Contemporary Art, Tel Aviv (upcoming December 2018); Dvir Gallery, Brussels (upcoming October 2018); Kunsthaus Baselland, Basel (2018); Museum Of Art And Design, New York (2017); Paul Kasmin Gallery, New York (2017); the High Line, New York (2016); Spinello Projects, Miami (2016); Paramo Gallery, Guadalajara (2016); Dvir Gallery, Tel Aviv (2016, 2007); MARTE-C, El Salvador (2015); Solomon R. Guggenheim Museum, New York (2014); Frieze Projects, New York (2014); Tel Aviv Museum of Art, Tel Aviv (2013, 2010); Pianissimo Gallery, Milan (2008); and The Herziliya Museum for Contemporary Art, Herziliya (2006). Selected group exhibitions featuring Tsabar's work include Goodman Gallery, Capetown (Upcoming August 2018) Museum Dhondt-Dhaenens, Sint- Martens-Latem (2017); Prospect New Orleans 4 (2017); TM StadTriennale, Hasselt/Genk, (2016); Hessel Museum of Art, New York (2015); ExtraCity, Antwerp (2011); MoMa PS1, New York (2010); the Fisher Landau Center at Columbia University, New York (2010); The Bucharest Biennale for Young Artists, Bucharest (2008); and Casino Luxembourg, Luxembourg (2008). Tsabar is a three-time recipient of an Artis Grant (2014, 2018 and 2010), a two-time recipient of the America-Israel Cultural Foundation Grant (2009 and 2005), a recipient of OUTSET grant, the 2009-2010 recipient of the Joan Sovern Award from Columbia University, 2012 Grantee of The Rema Hort Mann Foundation Award, and held residency in 2012 at The Fountainhead Residency in Miami. Tsabar's work has been featured in publications including ArtForum, ArtReview, ARTnews, The New York Times, New York Magazine, Frieze, ArtAsia Pacific, Wire, and Whitewall, among others. Her work is held in the permanent collections of the Solomon R. Guggenheim Museum, Jimenez-Colon, Tel Aviv Museum, Israel Museum, and Collection Dieresis. Tsabar lives and works in Brooklyn.
Faena Art Center Buenos Aires has the generous support of DS AUTOMOBILES. Faena Art would like to thank the Embassy of Israel in Buenos Aires for their support.
Image. Performance on Melodies of Certain Damage by Naama Tsabar. Composed and performed by Rose Blanshei, Taja Cheek, Jeanann Dara, Sarah Strauss, Naama Tsabar. Soluna Dallas Festival 2018. Photo: Sylvia Elzafon.