Exhibition
Hall of Visions and Hatch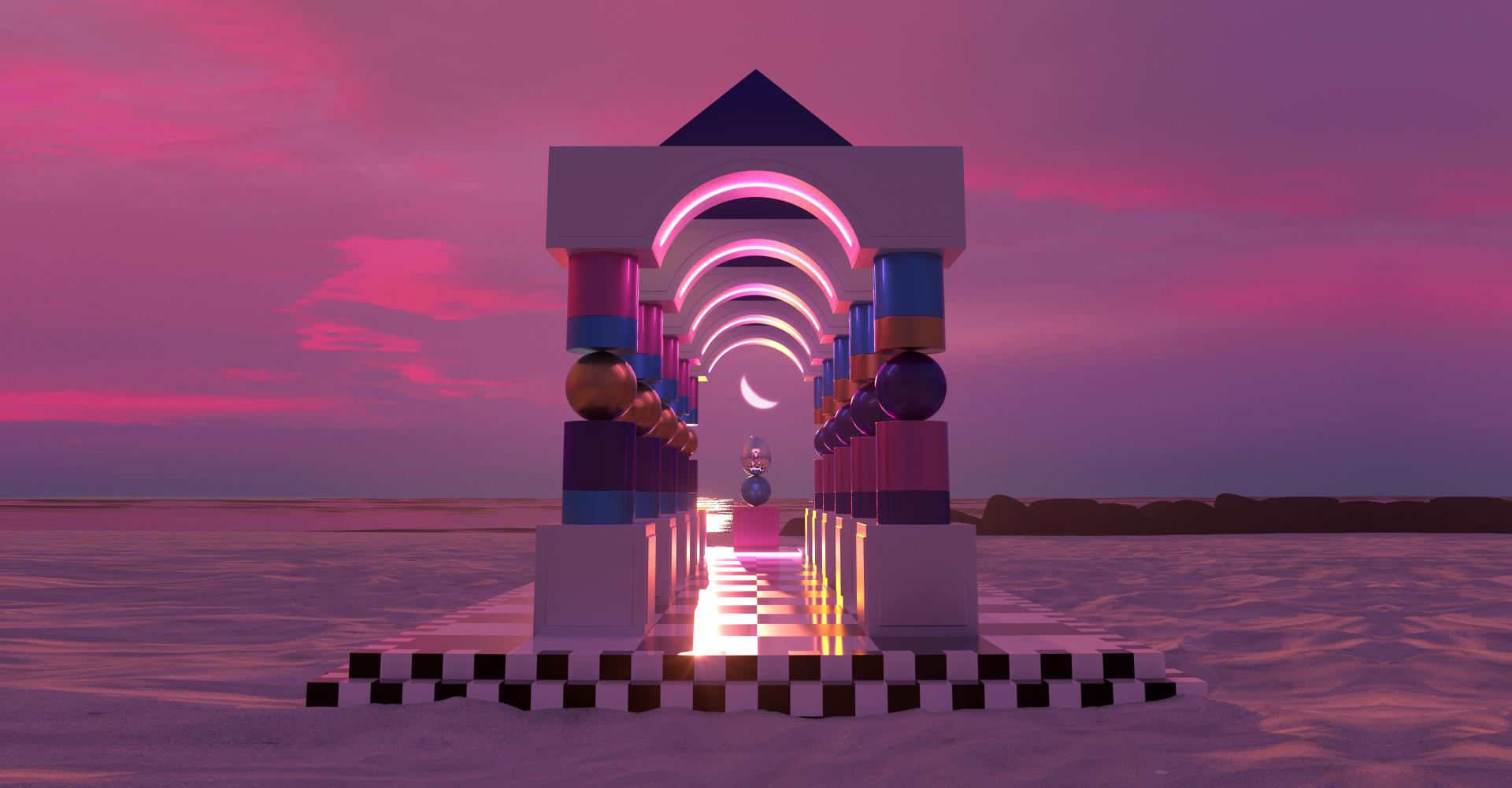 For Miami Art Week 2021, Faena Art has commissioned emerging artist Pilar Zeta to produce a monumental installation on the beach—a new model for the artist whose graphic design work has been featured on album covers for musicians such as Coldplay and KatyPerry.
‍
The idea behind Hall of Visions comes from a search for the ability to be present to manifest a future self. In this way, the work is both a metaphor and a physical space that calls on the viewer to explore the built environment—one must literally walk through a corridor to arrive at a large reflective sculptural egg.This most primal and beautiful symbol of creation invites whoever is looking into it to see themselves in the present. The hall of visions thus acts as a corridor of alignment, guiding whoever engages in the work to perceive their potential and connect with their vision. This new site-specific installation alludes to Argentina's Madí Movement while paying homage to the history of Art Deco in Miami Beach. Much like the artwork created as part of Madí, the architectural elements of Zeta's work do not impose a propaganda, nor an ideological agenda, rather they create a point of reflection that arises from a mathematical approach and leads to a rationality of aesthetics. Zeta explores colors and shapes from a constructive lens—as you walk through the installation, sharp fuchsias, purples, and blues lead the way to the mirrored sculptural egg. Its reflection places each person, each self, in the surrounding environment and forces a pause in the present moment. Just beyond the egg, the horizon aligns the artwork with the natural elements around it, emphasizing the cycles of day and night. As time is inconstant flux, we are reminded that the future is now.
‍
The installation serves as a portal for the self, an immersive artwork spilling out of the traditional frame.Its surreal placement on the beach strays away from any sort of realism while acknowledging the existence of solid objects that celebrate pure geometric form. Our notion of the outdoors has shifted over the past two years and placing a portal with such sharp shapes and colors in contrast with the ocean forces us to shift our perspective on how we feel about place and question where we really stand.
‍
A digital component shifts the work into the Metaverse and unlocks a sixth sense. Existing as an NFT, the futuristic Art Deco structure lives on Aorist, a new digital art platform, creating an eternal presence that marks this moment in time. Images in motion of the sun and moon rising allude to our ability to renew each day, just as a cracking egg implies our manifestation becoming a reality. But to see this, we need to see ourselves first. Whereas the Madí movement occurred in a post-war era, Zeta's work brinks on a post- pandemic reality, her portal calling us to align with our visions. To see yourself truly, you must go within, and the only way out is through.
‍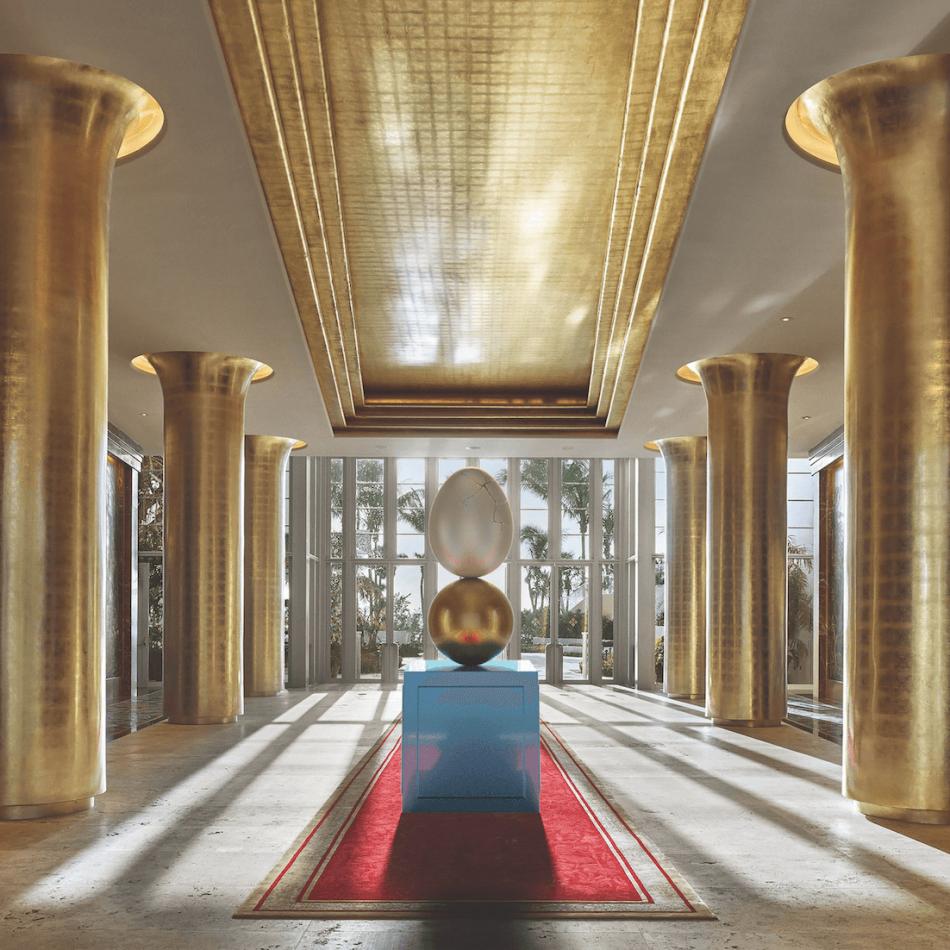 Hatch, Zeta's sculpture located in the Faena Cathedral, is being shown in conjunction with Hall of Visions. It refers to a moment of rebirth and realization—the cracked egg connecting us to a manifestation first conceived at the larger installation on the beach. Its placement in the Cathedral highlights the importance of the meditative state that the work inspires. Where Hall of Visions calls on the viewer to reflect and focus on a particular vision, Hatch serves as a gateway to a new reality.
‍
Pilar Zeta (b. 1986, Argentina) currently resides in the United States, working as a Multimedia Artist &Director. Her creations granted her international recognition, including a 2021 Grammy nomination for her role as Art Director for Coldplay's 'Everyday Life'. Zeta's art is heavily influenced by her upbringing(her mother was an art history teacher in Argentina) and a nascent interest in Ancient Egypt, cosmology, and metaphysics. Having been introduced to esoteric philosophies from a young age, Pilar Zeta's understanding of Neo- Metaphysical concepts is ubiquitous throughout her various artistic creations.Zeta's artistic style is defined by her minimalist, surrealist landscapes, her bold use of color and of deconstructed shapes. She has described her artistic style as 'mystical futurism'. Zeta's allusions to ancient traditions concerning practical magic and her innovative digital skills allow her to create liminal spaces in which both the past and the future are acknowledged and engaged with. Some of Zeta's most well-known works are her collaborations for influential musical artists such as Coldplay, Lil Nas X, Camila Cabello, creating from album artwork to directing videos and live performances.
‍