Exhibition
TabomBass by Vivian Caccuri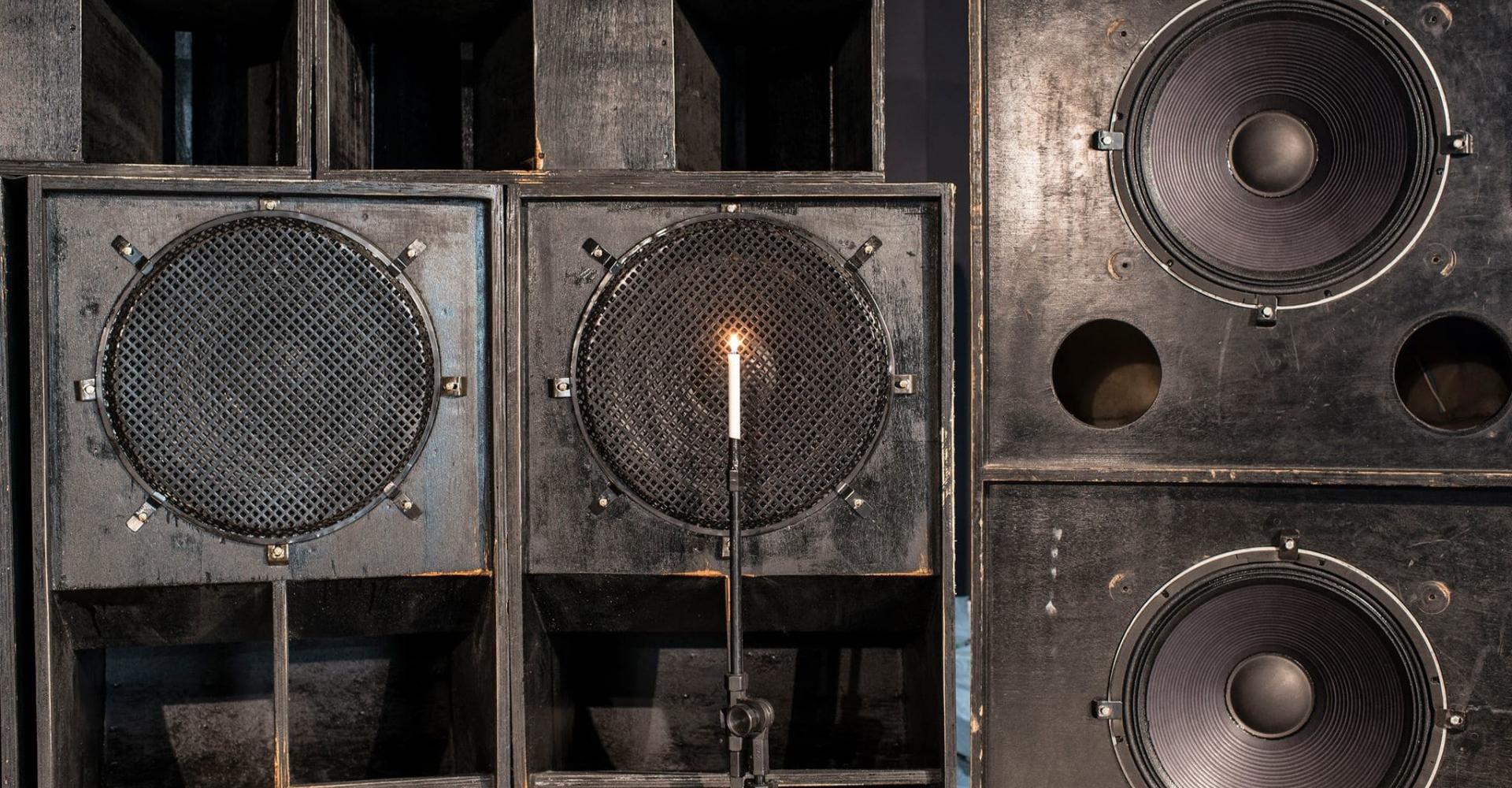 Winter Music Conference at Faena Forum
3300 Collins Avenue
Miami Beach
8:30 PM – 11:00 PM
Free and open to the public
Faena Art presents TabomBass by artist Vivian Caccuri, a sound installation and performance. TabomBass is the setting for an 'anti-concert'– not a standard musical presentation but a contemporary ritual. Existing somewhere between altarpiece and stage set, Caccuri presents us with a gathering place for the different sounds and traditions that make up the Miami experience and identity.
The work is a sound system composed of stacked speakers, similar to those used at street parties in cultures around the world –from Brazil to Jamaica to Little Havana. The utilitarian speakers are taken to an architectural and monumental extreme, becoming a wall of sound, stage backdrop and installation. Lit candles are placed in front of the speakers much like an altar. The flames move with the displaced air and dance to the rhythm of the deep sounds –basslines composed by artists from the city of Accra, Ghana who collaborated with Caccuri during her research there. Accra received groups of African-Brazilians who fled Brazil after the Malê Revolt, a slave rebellion that took place in Salvador in 1835.
To this day, their descendants are known as 'Tabom' – because, not knowing the local languages, they answered all questions with 'tá bom' [roughly translated as 'okay']. Taking this historical background as a point of departure, Caccuri seeks to expand and reconsider the lines of connection, particularly through sound and music, along the Africa-America trajectory.
Speaking about her work Vivian said "This is part of a larger series of works that are altars to the bass. The bass moves us, vibrates in our bodies, in our organs. I consider the bass an entity inside of the music because it connects people—it is on a sound spectrum that makes people move. When you see the candles pulsating to the bass—to the low frequencies—it is a metaphor for what happens inside of us. Our bodies are 90% liquids.. and these liquids react to the sound in the same way that fire does".
For the Faena Forum during Winter Music Conference, Cacurri transforms the space into a contemporary temple for the exploration of sound and music from all over the world at the unique point of confluence that is Miami.
Invited Miami-based and international musicians and performers will improvise for 20-30 minutes each in the creation of new polyphonic layering over the African basslines, creating a new hybrid work of art in a constant state of transformation.
Alan Faena said, "I am proud that the Faena Forum can exist as a space for relevant and experimental multidisciplinary cultural programming that is free and open to the public. My vision has always been to create a democratic gathering space for the creation of new communities to explore new ideas and cultural practices. During Music Week, the Forum exists as an accessible alternative for the experience of new sounds, new movements, and new voices in contemporary art and music."
About Vivian Caccuri
Vivian Caccuri uses sound as the vehicle to cross experiments in sensory perception with issues related to history and social conditioning. Through objects, installations, and performances, her pieces create situations that disorient everyday experience and, by extension, disrupt meanings and narratives seemingly as ingrained as the cognitive structure itself. Vivian has developed projects in many cities in Brazil and abroad, including the Amazon, Accra, Detroit, Helsinki, Vienna, Venezia, Kiev, Valparaíso, New Mexico, South India and more.
Throughout her career she has collaborated with several musicians such as Arto Lindsay (USA/BR), Gilberto Gil (BR), Fausto Fawcett (BR), Wanlov (Ghana) and has recently released her first musical project (Homa). Her sound works and compositions have been broadcasted in radio stations such as Resonance FM (London), Kunstradio (Vienna) and Rádio Mirabilis (Rio de Janeiro). At Princeton University she wrote her first book "Music is What I Make" (2012), published in Brazil and awarded by Funarte Prize of Critical Production in Music in 2013.
The evening is presented in collaboration with Absolut Elyx and Winter Music Conference.
Support is also provided by The Consulate General of Brazil in Miami.