HEART OF OKEANOS
PETROC SESTI
Crafted in CarbonXinc— an experimental material capable of sequestering significant quantities of greenhouse gasses—and seeded with living corals, Heart of Okeanos will become an idyllic haven for marine lifeforms.
November 29th - December 4th, 2022
Faena Hotel Cathedral
Heart of Okeanos is a sculpture of the cardiovascular workings of the Greek god of the ocean. Developed at the intersection of art, science and technology Petroc Sesti has recreated the biology of the heart of a blue whale, the largest heart of the animal kingdom. Sesti conceived of the artwork as a meditative sea beacon inspired by a real blue whale heart specimen, retrieved from a beached blue whale by scientists at the Royal Ontario Museum in Canada. The artifact has long been the source of inspiration for Sesti's dream of returning the Heart of Okeanos to the ocean made from a medium inspired by carbon absorbing life in the ocean.
Petroc has since been developing a carbon sink sculpture medium called CarbonXinc, a first for the art world. Drawing inspiration from roman paleozoic cement and marine organisms like coral that capture carbon to create their structures. Curated by Ximena Caminos and The ReefLine, the Heart of Okeanos will be brought back to life by returning it to the ocean, becoming a living coral reef and teeming with biodiversity. Sesti will work with The ReefLine Marine Biologist Shelby Thomas who will be seeding the sculpture with living corals as part of The ReefLine's vision of enhancing marine habitats with PH neutral artificial climate change resistant reefs.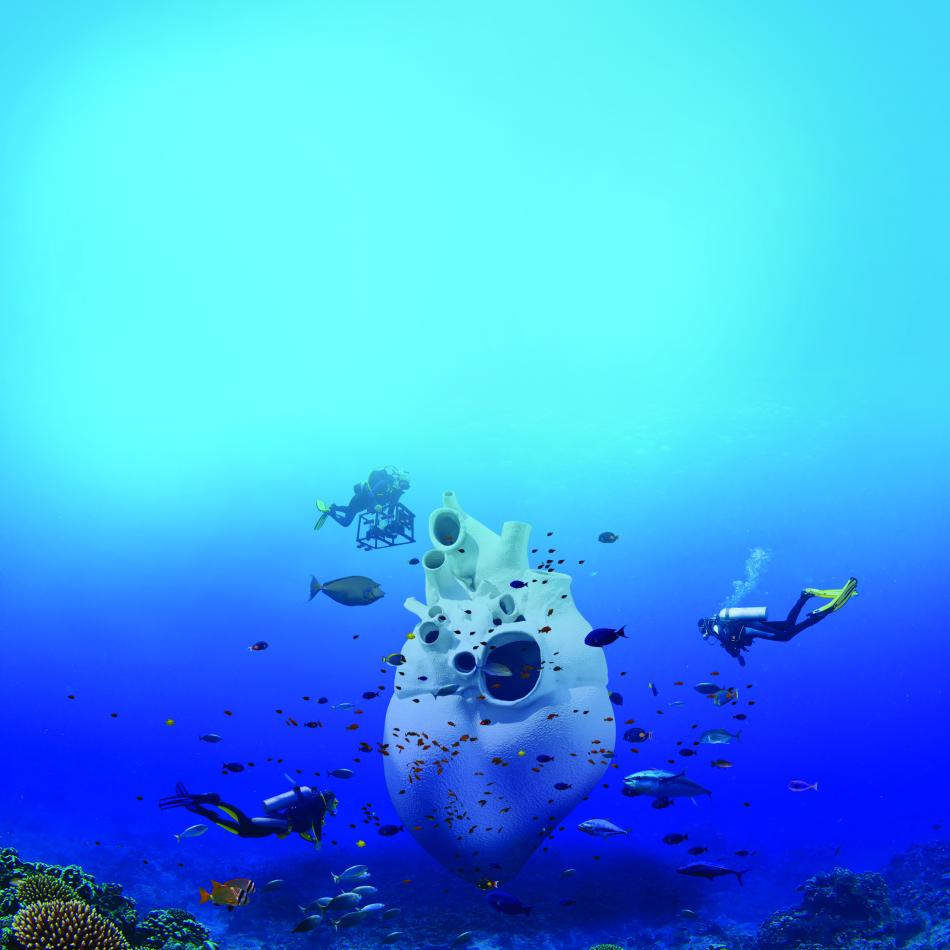 ABOUT THE REEFLINE
Founded by Ximena Caminos, the ReefLine is a 7-mile underwater public sculpture park, snorkel trail, and artificial reef which will provide a critical habitat for endangered reef organisms, promoting biodiversity, and enhancing coastal resilience. This series of artist-designed and scientist-informed artificial reefs will demonstrate to the world how tourism, artistic expression, and the creation of critical habitat can be aligned.
The ReefLine is a singular investment in civic infrastructure, public art, and environmental protection that will pay dividends over the coming decades and attract ecologically minded tourists and art lovers.