LIVING ROOM
RANDOM INTERNATIONAL
COMMISSIONED BY AORIST PRESENTED IN PARTNERSHIP WITH FAENA ART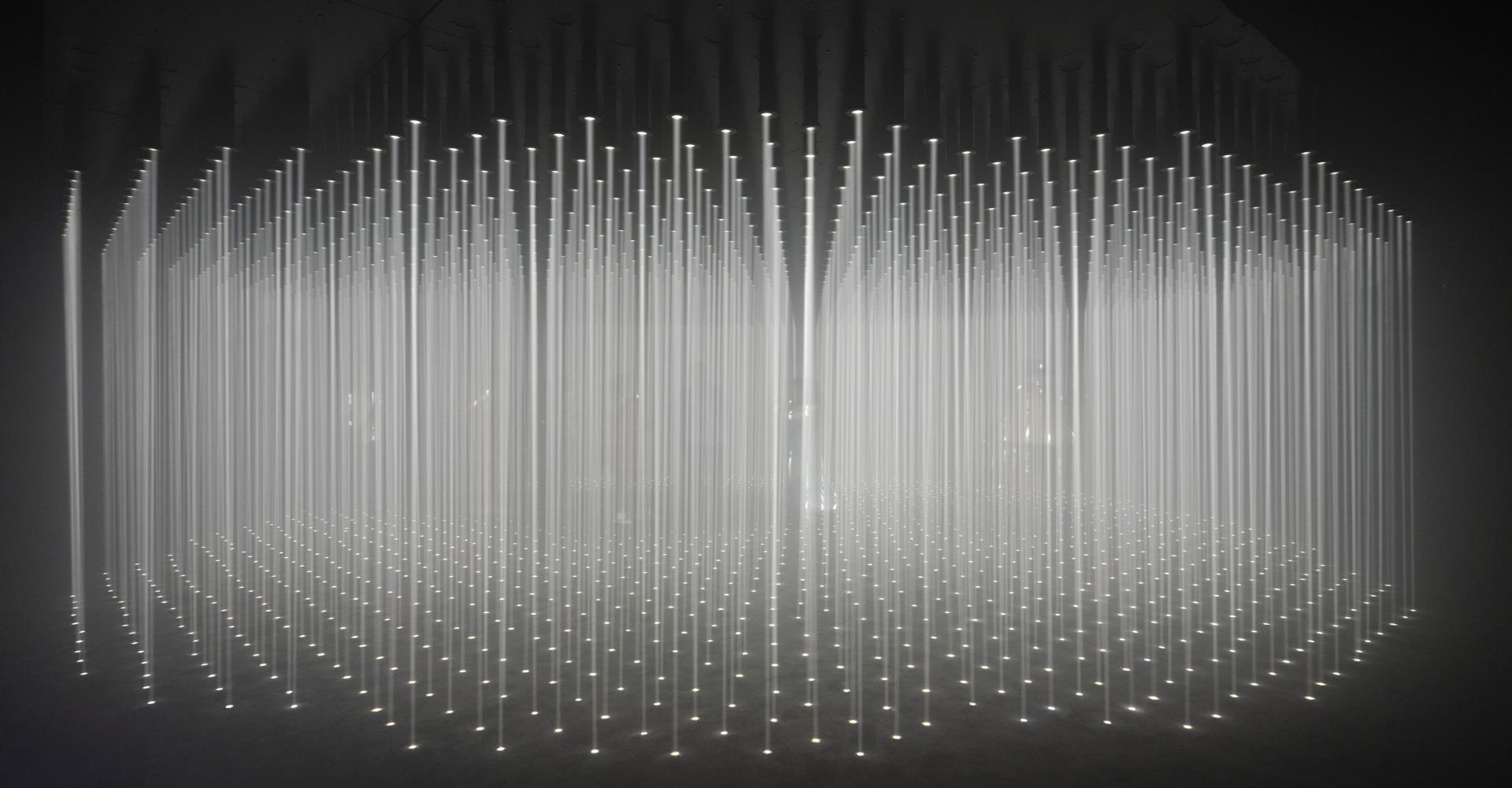 LIVING ROOM
RANDOM INTERNATIONAL
Random International's never-beforeseen installation continues their exploration of the impact of technological development on the human condition, utilizing Web3 to push the boundaries of immersive and experiential art.
November 29 - December 4, 2022
Faena Beach
Living Room explores the idea of space as a living being. Visitors are invited to enter a fluctuating architectural domain, in which shifting lights, fog, and sound respond to the audience's movements in unpredictable ways. As visitors navigate through the installation, their movement inside Living Room is tracked and recorded by complex motion sensors. Every individual's unique data is visualized and compressed as a looped video, which visitors can collect as an NFT on Aorist's marketplace by utilizing their entry ticket's unique ID. The data gathered will be continually tracked throughout the lifespan of the artwork, creating a visual archive of the installation's 'life' that will be minted as an NFT, making it the first archive of an immersive artwork to be stored on the blockchain. Pablo Rodríguez-Fraile, Founder and Chairman of Aorist, comments, "This body of work sets a new precedent in how the digital and the physical can come together to redefine how visitors experience and collect art. It's a unique and personalized experience, and truly an evolution in Random International's work and experiential art as a genre".
The organism is as mercurial as any human in its thoughts and behavior, sending visitors down pathways that might bend, expand and contract. It may open to invite someone in and then engulf them, or it could shut them out altogether. It could even disappear completely, before suddenly again revealing its presence. Even when invisible, the organism is always there. Living Room is a machine that allows us to choreograph a precise dynamic and sentient architecture around our audiences. The machine uses this fleeting material as the constituting ingredient to give temporary structure and meaning to the space. The spatial boundaries of the environment are permanently redrawn around (and in relation to) the visitor using nothing but water, light and colour (and software). What evolves is an entire environment that 'sees' us and entering Living Room invites us to instinctively connect with that environment. Hannes Koch, Founder of Random International, describes, "The installation functions as an architectural organism that uses its materials and components to express itself and interact with those who inhabit it. Living Room creates a living labyrinth that invites visitors to co-create and document their ephemeral experiences, bridging experiential art and blockchain technology for the first time".
ABOUT AORIST
Aorist is a next-generation cultural institution bridging the digital and physical domains through a global cross-disciplinary program of artist commissions, exhibitions, immersive experiences, and partnerships while offering a climate-forward NFT marketplace for artists creating at the edge of art and technology. Aorist empowers innovative artistic voices by creating a platform for artists, collectors, cultural leaders, as well as art and tech enthusiasts to navigate the digital art landscape that brings together technology and cultural innovation. Aorist Leverages web3 technology to offer advanced tools for artists to push the limits of their creative practice while protecting principles of ownership, authenticity, and social capital. Powered by Algorand, the first Pure Proof of Stake Blockchain, and partnering with ClimateTrade to offset carbon emissions, Aorist minimizes environmental impact while promoting blockchain sustainability. Aorist is founded by Pablo Rodriguez-Fraile, a trailblazer, patron, and innovator in the NFT ecosystem; creative place-maker, cultural strategist, curator Ximena Caminos; and Andrea Bonaceto, an artist and entrepreneur.
www.aorist.art