Faena Prize for the Arts 
WINNER 2022
Paula De Solminihac
FIRST MIAMI EDITION PRESENTED BY BOMBAY SAPPHIRE
Morning Glory by Paula de Solminihac draws attention to the urgent matter of our plant ecosystem. Created in collaboration with architect Vicente Donoso, the installation takes the form of the Beach Morning Glory, a trailing evergreen vine omnipresent across the beaches of Florida and the world thanks to its floating seawater- resistant seeds. Composed of wooden decks resembling the flowers and leaves of the Beach Morning Glory, De Solminihac's site-responsive topographic installation invites endless interaction and play for everyone on the beach, with such diverse ability-inclusive activities as playing, resting, watching, walking, and listening.
 
To use the imagination as one way of molding a given reality to learn to live in the present in the desire that drives both the creative processes of this work and and its invitation to join in. The artistic language of Morning Glory invokes a traveling flower that manifests on sandy ground along the seafront as an invitation to wander in search of new meanings motivated by the act of touching, inhabiting and being.
Morning Glory is a creeping plant of the genus Ipomoea wich has colonized nearly all tropical beaches thanks to its floating, traveling, seawater-resistant seeds. The plant, which has established itself on tropical coastlines around the globe, performs important functions when it settles on land: it acts as a mesh that prevents the dunes from moving and forms the humus that initiates other lifeforms. This life example has been used as a model to create a new space for exploring and inhabiting the beach. Its leaves and flowers were transformed into living spaces, using wood and sand, while its contours and branches have in turn been transformed into rambling trails.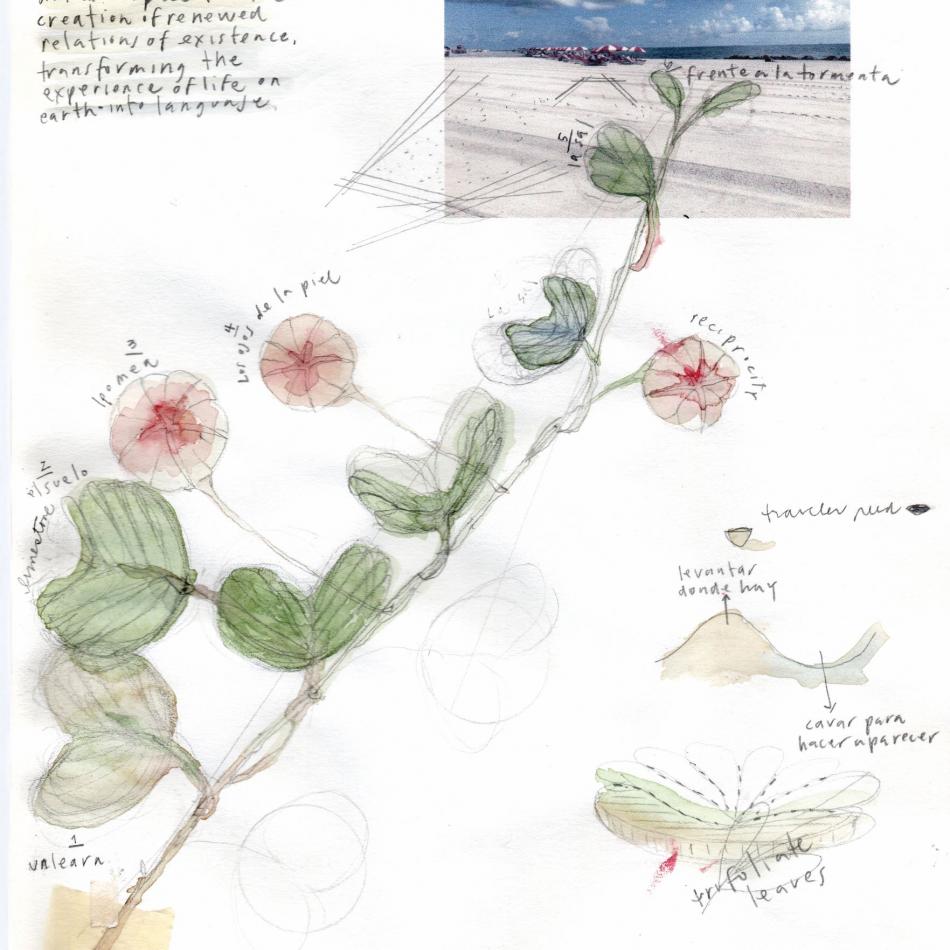 THE ARTIST
Paula de Solminihac (Chile, 1974) is a visual artist and Associate Professor at the School of Art,Pontifical Catholic University of Chile, and Executive Director of Nube Lab, a non-profit organization devoted to work in art and education. Since 2000, she has been conducting constant research into ceramics and particularly their material and symbolic transformation processes. This has led to the recognition of a type of artistic practice associated with research into the creative processses in art and the conflicts between nature and culture.
Recent milestones in De Solminihac´s career include the23rd Biennale of Sydney (Syndey, 2022); the exhibition Humus at the Museo de Artes Visuales (Santiago, 2019); the exhibition Orillas at the Galería Nueveochenta (Bogotá, 2018); El Peso dde las Cosas at the Sala Gasco (Santiago, 2017); the CERAMIX exhibition at the Bonneffantenmuseum (Maastricht, 2015); and the International Revelations Biennial on arts and crafts (Grand Palais, Paris, 2017).
THE COLLABORATOR
Vicente Donoso (Santiago, 1995) is an architect and holds a Master´s in Landscape Architecture from the Pontifical Catholic University of Chile. His work builds bridges between art and architecture, drawing inspiration from natural elements and processes.