MAZE: JOURNEY THROUGH THE ALGORITHMIC SELF
—SEBASTIAN ERRAZURIZ
A MONUMENTAL SITE-SPECIFIC INSTALLATION BY CHILEAN ARTIST SEBASTIAN ERRAZRURIZ ACROSS THE FAENA BEACH. 
In contrast to conventional labyrinths, this sand covered MAZE is not designed to get lost or disorient but to find ourselves, to spark conversation and build community. An extraordinary public art installation where sand covered walls blend into the Miami Beach landscape against the backdrop of turquoise waters. Within this immersive maze where one never gets lost and all paths lead toward one destination, a symbolic gathering point. One inevitably arrives at the center of the maze where Errazuriz guides us to a space designed for congregation, a small plaza where we can gather to contemplate and engage in meaningful conversations.
"An oasis to temporarily escape, disconnect and reconnect with what is important. A place to have conversations on society's upcoming technological and environmental challenges."
Along with the unveiling of this temporary public art installation, Errazuriz releases an accompanying publication, downloadable via QR within the structure. "AI MAZE" will offer insight into our future interactions with artificial intelligence, a guide for envisioning society and the possibilities ahead. Errazuriz believes AI to be the most significant development in human history, a pivotal moment in our time, more so than the printing press or the internet.
Through this work the artist encourages us to contemplate AI's profound impact on the creative industries. MAZE Journey Through the Algorithmic Self stands not only as a remarkable work of art but as a catalyst for introspection, dialogue, and exploration in the digital age.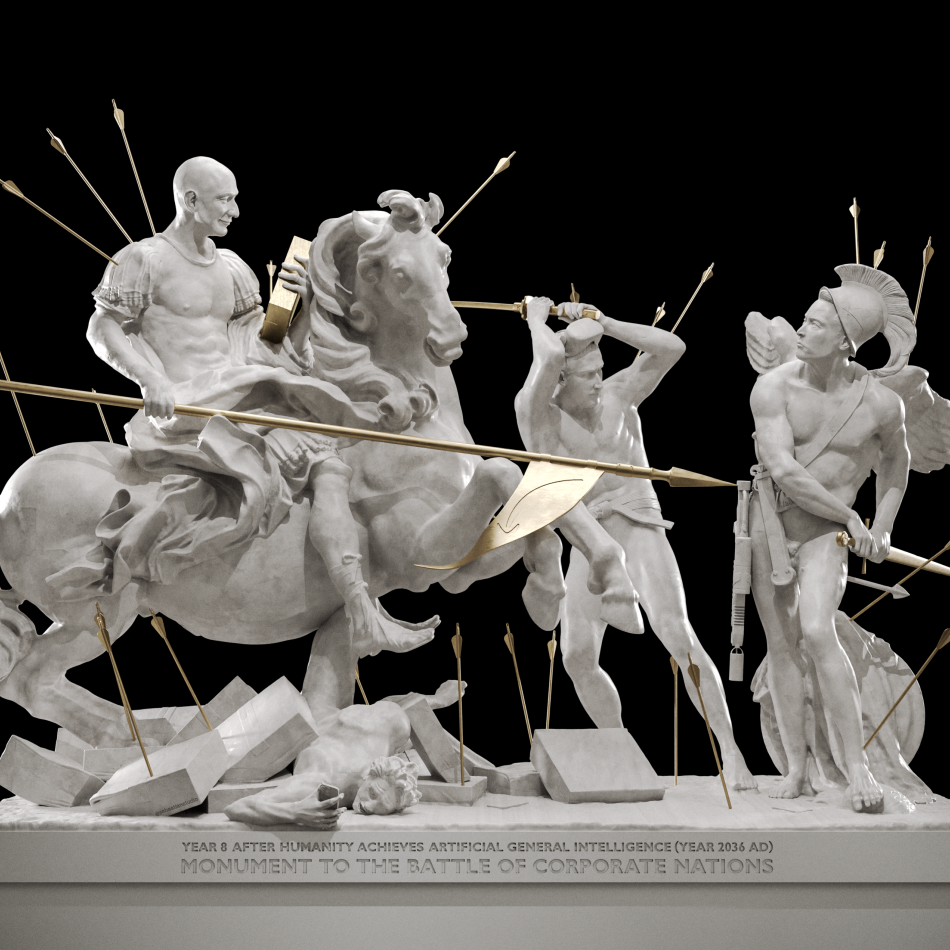 BATTLE OF THE CORPORATE NATIONS
'Battle of the Corporate Nations', a monumental, poured marble and bronze equestrian sculpture by Chilean artist Sebastian Errzauriz explores the reality in which we currently live where corporations have become the pinnacle of power and influence in our contemporary societies. The sculpture places Jeff Bezos atop a rearing horse while Mark Zuckerberg and Elon Musk engage in a battle with swords, a battle of modern-day titans.
The equestrian statue which has traditionally been a visual representation of those in power dates to figures like Marcus Aurelius and even as far back as 6th century BC. Historically these larger-than-life monuments were placed in the most prominent public gathering spaces towering over and imposing the leadership and authority of the figures represented. The modern-day moguls Musk, Zuckerberg and Bezos have not only garnered celebrity like status, but their financial reserves have also surpassed that of a small to medium sized country and now wield substantial political power and influence. Errazuriz envisions the rise of the Corporate Nations, "Expect corporations driven by AI to grow in wealth, power and influence, to the point where they are more important than countries" the countries of Microsoft, Apple, or Google, as sovereign nations with their own legislations and defensive militias, generate worldwide power shifts.
ABOUT THE ARTIST
Artist, designer and thinker, Sebastian Errazuriz has been critically acclaimed for his scientific approach to creativity. His first principles thinking has allowed him to look again at everyday problems and imagine new possibilities.
His works have been displayed in over 100 exhibitions and included in museum collections around the world.
Obsessed for the past decade with the upcoming societal impact of AI, his artworks, texts, and talks on the subject were initially met with skepticism by those who considered an artist had no place to talk about the future of science. 
Today his detailed projections of AI's societal repercussions are considered a key framework to help others imagine and prepare for the upcoming AI storm.
 
SEBASTIAN ERRAZURIZ (Born in Chile, NY based)
Acclaimed as one of the most prolific designers of his generation, Errazuriz is an expert in the art and science of creativity.  He has been a guest speaker at Harvard's Tech Lab, The Draper CEO Summit, Wired Magazine at the Tate Modern, Sotheby's Contemporary Art, Art Basel's USB Lounge and New York's Museum of Art and Design. 
Portrayed in over 50 magazine covers, Sebastian's work has been featured in the NY Times, The Wall Street Journal, The Financial Times, Bloomberg, BBC, CNN, Vogue and Architectural Digest. 
His large-scale public art installations have included Times Square, the New Museum and Miami Basel. His art and design works have been showcased in more than 100 exhibitions and included in permanent museum collections around the world.